Canon EOS R5 Review
With the release of the Canon EOS R5, at Camera House we wanted to test out this highly-anticipated model and see how it compares to other mirrorless camera models on the market. Many photography enthusiasts coin the Canon EOS R5 as the brand's best-ever still camera. With a next-generation autofocus system, fantastic image quality and fast 12fps/20fps it very well could be.
If you're keen to learn more about the benefits of using a mirrorless camera, check out our article Benefits of Mirrorless Cameras on the Camera House blog.
Release Date and Price
The Canon EOS R5 is now available at Camera House. Compared to other full-frame mirrorless models on the market the R5 is an expensive option, but with justifiable reasons.
The R5 has many new top-of-the-range features you won't see in other models like it, such as the 8k video capability, image stabilization (IBIS) and high-speed data throughout the RF mount. With a 45 Megapixel Canon CMOS sensor and the powerful new DIG!C X processor, image quality is improved even at high ISO.
Canon R5 Design
From the hand grip to the controls, the R5 is designed to honour and expand on Canon's legacy models to build upon the amazing technology and designs the powerhouse brand is known for.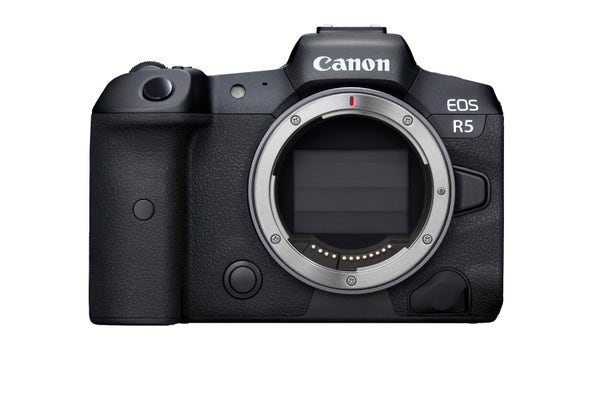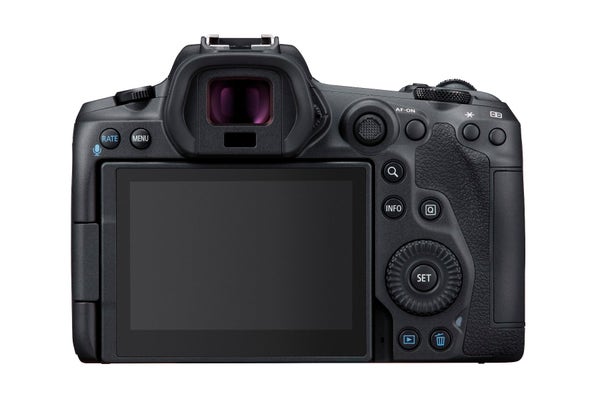 To this, the Canon EOS R5 isn't totally unique in terms of its design, being pretty much identical to its former model. The weight of the R5 comes in at only 738g without a lens which is much lighter than other similar models on the market which are often closer to 1kg. There is a 5.76 million pixel EVF with an AF joystick instead of a touch bar which is slightly bulky to change AF points and menus but is sometimes a preferable feature among users.
The convenient square display sits on the R5's upper right shoulder and displays any current shooting information. This makes it a breeze to check everything between photos and turn off the back monitor. The touchscreen monitor measures at 3.15in and sports a 2.1MP resolution. The variable angle makes is a really useful part of the design when shooting videos.
Canon R5 Key Specs
1. Outstanding Stills and Video
At the forefront of the R5's design was the goal to take exceptional images every time, but also take video to new heights with 8K video. Many consumers picked the 5D in various generations only for its video capacity, while the R5's 8K feature provides four times the detail of its 4K predecessors. There are limitless possibilities for what you can do with the R5, from capturing amazingly detailed still photographs with rolling footage to slowing the action down to 120P at 4K or even speeding it up with timelapse footage at 8K.
With a 45 Megapixel Canon CMOS sensor and the powerful DIG!C X processor, image quality is enhanced even at a high ISO. The formidable combination of sensor and CPU allows for high-resolution large prints, the ability to pick pin precise detail within an image, and opens up a world of possibilities for any photographer. Shooting with a 5.76 MP Electronic Viewfinder is a wonderful user experience, and the Vari-angle LCD Touch Screen allows for a strong array of shooting chances from low or high angles.
2. Autofocus Speed and Accuracy
The Dual Pixel CMOS AFII provides next-generation autofocus with 100 per cent AF coverage and a massive 1053 automatically selectable focal points – a groundbreaking feature. The R5 is able to instinctively detect eyes, faces, and heads, which makes photography a seamless experience. The high-speed continuous shooting of the R5 allows you to take up to 20 frames per second with the electronic shutter. The mechanical shutter is easy, allowing you to take up to 12 frames per second to capture crystal clear images every time.
The Canon EOS R5 has excellent 5 axes in-body image stabilisation, which when combined with stabilised lenses results in a rock-solid foundation. Images are recorded to either the CFexpress card or the SD slot, with the CFexpress card supporting high-speed transfer. This allows the camera to continuously shoot 45-megapixel still images at up to 20 frames per second, as well as internally record 8K RAW movies.
3. Usability and Familiarity
The design of the R5 is handy and relatively compact compared to similar models on the market. This makes it perfect for any avid photographer looking to take their camera on the go. It's the small details that make the difference with the body of this full-frame mirrorless model. The Multi-controller joystick, the top mount dot matrix LCD display, and the accessibility of all controls and features are designed to save time and effort and let users take crisp images quickly, with the least amount of effort.
Compatible Lenses and Accessories
Best Lenses for Canon R5
The Canon EOS R5 is compatible with most Canon EF-M Lenses as well as Canon accessories. See below our picks of the top lenses for the R5.
Canon RF 15-35mm f/2.8L IS USM Lens: The RF 15-35mm will provide you with the ultimate in high image quality with optical stabilisation, an ultra-wide viewing angle and quiet and smooth autofocus.
Canon RF 70-200mm f/2.8L IS USM Lens: With a sleek design, the RF 70-200mm has a great optical design with two aspherical elements and a versatile and long reach. The Super UD element produces vibrant colours and improved clarity in images.
Canon RF 85mm f/1.2L USM Lens: The RF 85mm provides fantastic control over depth of field with an f/1.2 maximum aperture, which is great for low light conditions.
Best Camera Accessories for Canon R5
No camera is complete without a solid selection of accessories. To round out your kit, browse our online selection of memory cards, tripods and Canon camera batteries in-store or online at Camera House.
When making such a high-value investment into a high-quality mirrorless camera model, such as the Canon EOS R5, it's important you protect your asset as safely as possible. Camera House has a range of camera bags and cases in a variety of sizes, materials and colourways to find the perfect solution for you.
Shop Canon EOS R5 from Camera House
Take advantage of Camera House's knowledgeable staff in-store and online and ask them about the best photography equipment for you! Check out our shipping information online and enjoy flat-rate delivery Australia-wide, or check out our store locator to visit a Camera House store near you.