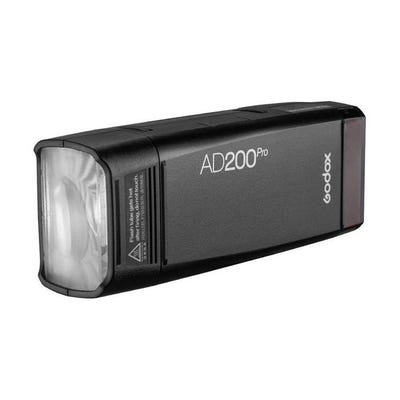 Godox Witstro AD200Pro Portable Flash
Description
The technical details behind this flash
Godox Witstro AD200Pro Portable Flash is great for weddings and portraits. It offers 200Ws Power, 1.8s Recycle Time, 1/8000s High-Speed Sync, and Built-in Wireless X Receiver. It is compatible with Godox TTL Triggers. It also includes Speedlight and Bare Bulb Flash Modules. The Witstro AD200Pro features a 3.5mm Sync Input and Optical Slave Compatibility.
Built-in Wireless X Receiver
Its built-in Wireless X system enable you to trigger and configure the flash wirelessly.
Stable
Providing stable ±200 kelvin colour temperature variance over the entire power range, users can rely on it for more accurate colour reproduction and reduced time spent colour correcting images in post-production.
Equipped with 200Ws of Flash Power
The Godox Witstro AD200Pro sports 200Ws of flash power. The Adjustable in 9-steps from 1/1 full power to 1/256 minimum power provides granular control of the lighting output to adapt to your specific shooting scenario.
Features Fast Flash-Recycle Time
Recycling time of between 0.01 seconds and 1.8 seconds is possible All thanks to the 14.4V/2900mAh long-life lithium battery module.
Key Features
200Ws Power, 1.8s Recycle Time
1/8000s High-Speed Sync
Built-in Wireless X Receiver
Compatible with Godox TTL Triggers
Top three Reasons we think you will love this flash
Includes Speedlight and Bare Bulb Flash Modules
High Contrast LCD Rear Display
Perfect for Wedding and Portraits