Keep your cameras in top condition with Camera House.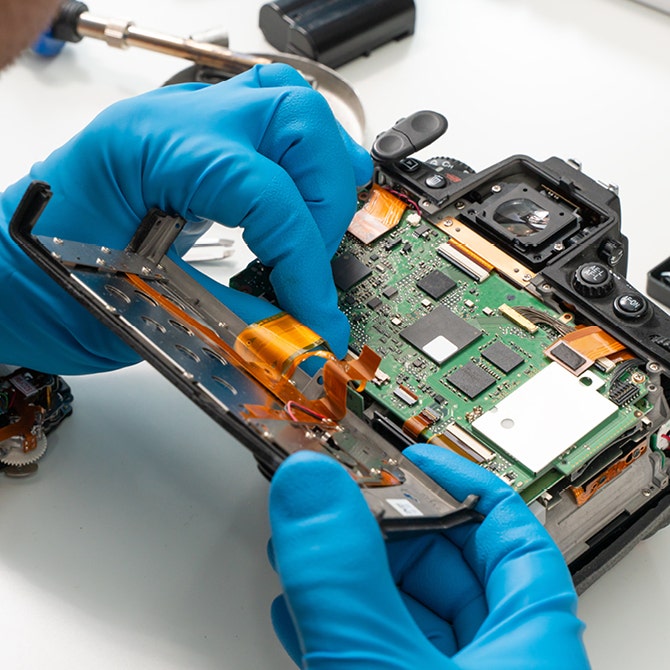 Does your camera need a health check?
When you're using your camera to capture the moments that matter, you need it to be reliable. As photography enthusiasts ourselves, we know how frustrating it can be for you if your camera isn't working as expected.
Camera House are the photography equipment experts, so the chances are that no matter what the issue is, we've seen it before. From simple fixes to complex repairs, we can assess it in-house with our trained team of skilled technicians. Our stores are equipped with a range of diagnostic equipment plus the tools needed to determine if parts are required, so we can have your camera fixed and get you back to taking photos.
Why choose Camera House for camera repairs and servicing
The Camera House team are as enthusiastic about photography as you are. Whether you're a professional or an enthusiastic amateur, we understand that you need your camera gear to perform at its best. If your camera or other photography gear is not working at its best, our in-house team of technicians can help to pinpoint the issue and get it fixed. (Need something to use while we're investigating and fixing your equipment? Ask about our camera equipment hire options.)
We train our team extensively in-house, as well as use a range of state-of-the-art diagnostics so we can work out why your camera isn't working. Whether you have a film or digital camera, we can help to identify the problem and let you know what's involved in any necessary repairs.
And of course, prevention is better than cure, so as well as repairs, we can also help you with regular servicing to help prevent problems before they happen.
FAQ on camera repairs and servicing
How much will it cost to repair my camera?
There's a lot of factors to how much camera repairs cost. The age of your camera, how it's been stored, the nature of the problem and the list goes on. When you come into Camera House for camera repairs, our friendly team can assess your camera and give you a no-obligation estimate. If we encounter further problems during the repair process, we'll contact you to discuss and let you know any cost changes.
What's the turnaround time for camera repairs?
How long camera repairs take can depend on the nature of the issue, if parts are needed and store workload. If you need your gear back within a certain timeframe, talk to us in-store to see what's possible.
Do you provide a warranty on repairs?
All our work is covered by Australian consumer law
Do you only repair specific camera brands?
We can service and repair most camera brands, including film and digital cameras. Some team members have specific areas of interest, including vintage camera repairs. Enquire with your local store about your specific camera and equipment, and we'll let you know how we can help.
About us
We are passionate about photography and helping our customers capture life's special moments. From camera repairs to film services, printing to scanning, and more, our knowledgeable staff provides top-notch services and products to unleash your creativity. Visit us today and let us help bring your vision to life.