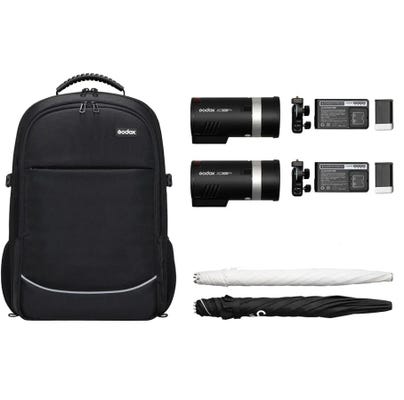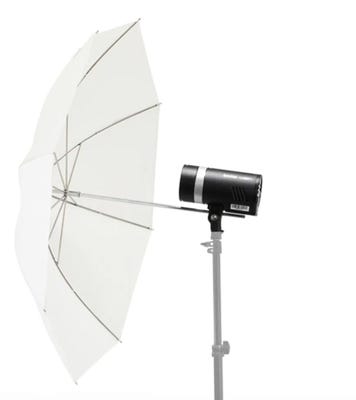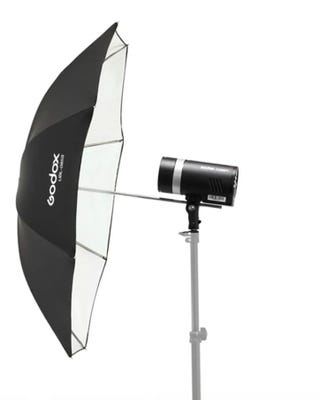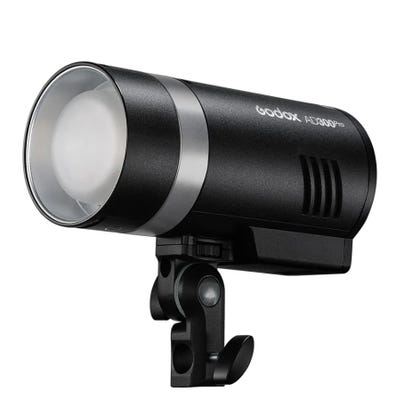 Godox AD300Pro Two Head Umbrella Kit with Carry Bag
Description
The technical details behind this kit
Godox AD300Pro Two Head Umbrella Kit with Carry Bag offers exceptional features. It gives users a small, lightweight solution, meeting the demands for easy and basic lighting setups carrying your photo gear in one bag. Beyond the two lights, the kit includes one silver umbrella, a translucent umbrella, and a backpack. This amazing bundle also provides two Godox AD300Pro Flashes which are lightweight, small but powerful 300Ws strobes offering precise power control in 1/10th step increments and a built-in bi-colour modelling light to help your pre-visualization. The AD300Pro fully supports TTL and HSS, distinguished by its short recycle time and stable colour temperature. This kit gives remarkable value to your works.
The Backpack
The Full perimeter zippers provide access from all sides. It has a reflective strip for improved visibility when walking at night. The exterior is made of lightweight and smooth nylon fabric, wear-resistance and waterproof. The inner layer adopts a firm polyester lining with a honeycomb texture.
UBL-085S/T Umbrellas
The 2 lights kit comes with two versatile 85" diameter umbrellas, one with a silver interior (UBL-085S) and the transparent one (UBL-085T), designed to fit in the Godox CB20 backpack. The transparent umbrella has a transparent design for shoot-through use, to deliver a flattering soft appearance.
Key Features
1x Godox CB20 Back Pack
1x UBL-085S umbrella with transparent diffuser cover
1x UBL-085T umbrella with black diffuser cover
2x Godox AD300Pro TTL Lithium Ion Flashes
Portable, Small and Lightweight flash solution
Recycle Time: 0.01-1.5 sec, 1/8000 Sec High Speed Sync, & 1/256 to 1/1 Power Control
12W BI Color LED Modeling Lamp
Up to 320 Full-Power Flashes per Charge
Top three Reasons we think you will love this kit
Small, Lightweight Solution
Amazing value for money
Reliable Kit